Messaging to Your Customers After a Crisis #VegasStrong
Marketers plan their words carefully, but never more intentionally than in times of crisis. Natural disasters, and human-made tragedies, impact business. So then, how do you tell your customers their orders are delayed because your warehouse burned in a wildfire? How does the Houston Tourism Board invite people back after the devastation of record-breaking floods?
Hundreds of Wrong Ways
The common consensus is that there is no right way, only hundreds of wrong ways. Even the timing is up for question. Some of us remember that it took David Letterman coming back on the air after 9/11 to convince us that it was ok to move forward—to attempt to regain some normalcy. So, following the tragedy in Las Vegas, and the recent natural disasters around the US, I have thought more and more about this. I mean, we here at Dialsmith help clients find the right words and messages but what do you say when words don't seem enough?
If I Were Them, What Would I Say to Me?
Then, just this week, I received what I will now call The Most Perfect Post-Crisis Communication Piece—courtesy of MGM Resorts and yes, before you Google it, MGM Resorts owns and operates Mandalay Bay where the recent events occurred. Feeling how I felt after reading TMPPCCP and realizing how it struck me, I began to dissect why it was so effective. For context, I have been to Las Vegas for several concerts. And I have stayed at Mandalay Bay. I visited with my younger daughter—and I am sure they have all that information in my profile. So, I started thinking… if I were them, what would I say to me? The answer? EXACTLY what they said.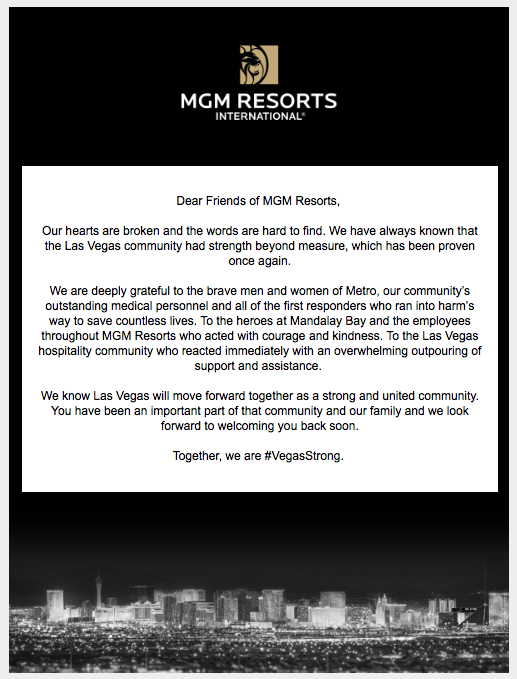 The 5 Elements of a Perfect Post-Crisis Communication
This piece hit the mark on all five required elements of a perfect post-crisis communication piece:
Be sincere
Acknowledge the tragedy
Express appreciation to first responders
Honor your employees and community
Welcome us back
How They Got Me
I can tell you precisely where they hooked me; when I got a lump in my throat upon reading this the first time. It is when they honored the heroic efforts of their employees.
"To the heroes at Mandalay Bay and the employees throughout MGM Resorts who acted with courage and kindness."
For some reason, I had not thought about how devastating that day was for them. They reminded me there are people behind this large company. And they reminded me that those people have lost so much, and frankly, their livelihood depends on people like me coming back.
And they closed it out very simply: "Together, we are #VegasStrong."
It is artful, heartfelt, not over the top. In short, it is pitch-perfect. A shout-out to the thoughtful marketers who followed their gut, and their heart, on this one.
To read more of our takes regarding messaging and the power of words… check out our Word Games Post.
We encourage your comments or join the discussion by following us on Twitter.