Dialsmith's Perception Analyzer Featured on Food Network Star Season 9
Food and focus groups don't typically go hand-in-hand. But then there's not much that is typical about Food Network's widely popular primetime competition series Food Network Star. Along with a series of challenge formats brought back from previous seasons, Season 9, which kicked off in June, features new challenges, consisting of live-audience focus groups equipped with Dialsmith's Perception Analyzer dials–lovingly nicknamed "The Dial of Doom" by Star competitors.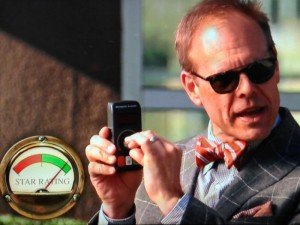 Food Network Star host Alton Brown gives the live-audience focus group a quick tutorial on the Perception Analyzer dial. Image courtesy of Food Network.  

The focus group challenges give Food Network fans another avenue to engage with, and weigh in on, the competition. The ability to collect continuous feedback, second-by-second, as focus group members view the performances of the competitors, adds a unique element to the competition. Feedback from the focus groups are displayed in real-time as on-screen graphics and show an aggregated approval rating for every second of each competitor's performance.

The Perception Analyzer dials have the unique ability to capture continuous feedback each second as the competitors perform, capturing the instant, in-the-moment, impression from each focus group member. Additionally, the feedback from the dials show exactly where competitors peaked and where they bottomed out, setting the stage for engaging dialog between the competitors and the judges.

While the Perception Analyzer is used extensively in market and media research, it is no stranger to entertainment and  news settings as well. The technology is a mainstay on CNN's election and political coverage as well as being featured on CNBC, Fox News and reality shows such as The Apprentice.