Five Biggest Takeaways from our Slidermetrix 2017 Super Bowl Ad Polling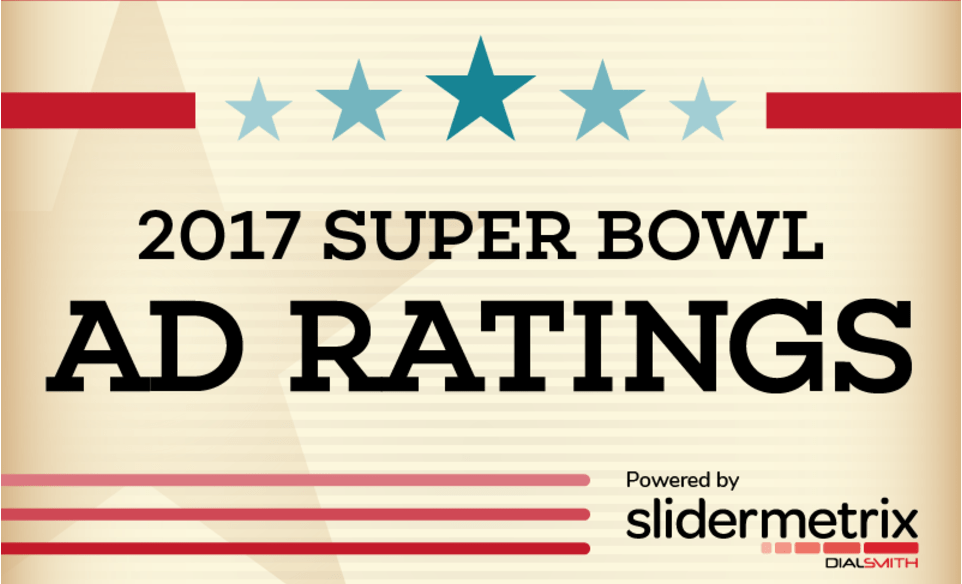 Well, that was a memorable Super Bowl, right? Yeah, the game was pretty good. Lady Gaga and her drone army were show-stopping. And the ads were… well, like usual, a spectacle all on their own. We just concluded our fifth consecutive year of testing the Super Bowl ads. This year, we had a blast partnering with global strategic communications firm maslansky + partners to collect and report on second-by-second viewer opinions on every Super Bowl ad. Yes, we recorded how viewers felt about every second of more than 60 ads that aired during the Super Bowl. Since this year's brands and advertisers spent $166,667 per second on a 30-second spot, it was the least we could do, right?
How did we do it? We used our unique Slidermetrix technology, which you can read more about here.
We're going to cover our five biggest takeaways here but if you want to see our full list of winners and losers by viewer ages, by industries and more, we created this really nifty Infographic that you should really check out. And if you want to watch maslanky president Lee Carter or Dialsmith CEO David Paull engage in insightful discussion about our 2017 Super Bowl ad rating results, scroll down to the bottom of this post and check out the videos.
Otherwise, without further ado, here are our biggest takeaways from our Slidermetrix 2017 Super Bowl Ad Ratings :
Automakers are doing it right. Our top four scoring ads were all auto ads with Hyundai's "A Better Super Bowl," Mercedes Benz's "Easy Driver," Buick's "Cam Newton and Miranda Kerr," and Kia's "Hero's Journey" spots receiving our highest marks.
Just the ads please, hold the politics. Ads with politically charged themes made news but didn't engage our viewers. In particular, 84 Lumber's "The Journey Begins" ad fell flat as one of our lowest rated spots amongst older viewers, though the ad scored much higher with Millennials.
The Bieber bomb. Several stars shined bright but not The Bieber. Ads that deftly weaved humor with star power were hits with our viewers. Peter Fonda (Mercedes), Melissa McCarthy (Kia) and Justin Timberlake and Christopher Walken (Bai) all received high grades. Whether it was the joke that fell flat or Bieber's appeal, the T-Mobile ad missed the mark.
Risk was rewarded. Going live is risky, but it's also authentic and our viewers liked it. Both Hyundai's and Snicker's ads, shot during the Big Game, scored well with our viewers.
Super- and Not-So-Super Seconds tell their own story. Hyundai's spot produced our highest scoring second across all Super Bowl ads and one of the highest peak moments ever since we began testing five years ago. The moment captured a live, virtual reunion of US Army Corporal Trista Strauch, stationed in Zagan, Poland, with her family who were in attendance at the Super Bowl. The moment had a genuine, emotional tug-at-the-heartstrings appeal that won over our viewers.
In contrast, 84 Lumber's spot produced our lowest scoring second across all ads. Scores trended downward from start to finish as the weighty story, depicting a Mexican mother and daughter unfolded, bottoming out as the ad concluded without a "feel good" ending or any conclusion to speak of. Viewers reacted negatively to the sharp tone and weren't too keen on having to go online to view the rest of the story.
Well, thanks. That was fun. If you're up for even more fun, check out the following:
Like this post? Subscribe to our newsletter and get a monthly round-up of our most popular posts.