Five Questions with 'Dialed In' Affiliate Adler Weiner Los Angeles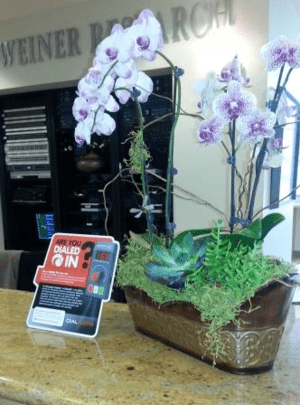 Our 'Dialed In' affiliate facility network is up and running if you're looking for a venue that's best suited to host your next dial group session. In order to introduce each of our 'Dialed In' facilities, we'll be doing a series of "5 Questions with…" blog features with representatives from our participating facilities. You may remember Kristen Kenehan from our first "5 Questions with" blog post. We'll she's back for an encore this time to chat about Adler Weiner's Los Angeles facility.
Q : What should clients expect from your facility when they walk in the door and what sets Adler Weiner LA apart?
Kristen: Very recently remodeled, amazing views of the LA Basin all the way to the ocean over Santa Monica.  In addition to design aesthetics beyond compare, we have amazing recruitment and unmatched attention to detail.
Q: Why is Adler Weiner LA ideal for Perception Analyzer dial sessions and what kind of feedback have you heard from clients who have run dials at your facility? 
Kristen: Client teams love our large room.  It has oversized viewing capabilities from both ends and wall pass-throughs to make set-up simple and streamlined.  Additionally, our team does a great job of making sure everything is ready prior to the client's arrival: clients can walk in and start research immediately without concerns about troubleshooting or set-up.
Q: What makes Los Angeles a desirable research destination for your clients? 
Kristen: Los Angeles has had an amazing evolution.  Always known as a picturesque destination, its modernizing efforts combined with its world culture influence make LA a premier target for research.  Whether tech, medical, community, tourism, or consumer goods, the LA profile satisfies all types of research.  Our staff and facility are great reflections of the modern class and diversity of our great town.
Q: What is your number one priority in creating a successful research environment in your facility? 
Kristen: Exclusivity: every client project gets undivided attention and your team will feel like they are the only research we are conducting from service to recruitment, there is a significant level of attention that we mandate for each project making sure it is successful.
Q: What aspect of the research industry inspired you to run a facility?  
Kristen: Every day is a new conversation!  We are exposed to a fascinating variety of topics and intentions.  Keeping Adler Weiner as a key contributor to those conversations is our goal.
That's a wrap for this round of "Five Questions with…". Thanks again, Kristen! Awesome to have Adler Weiner Los Angeles as one of our flagship 'Dialed In" facilities. For more on our 'Dialed In" affiliates or to find one of our affiliate facilities in your research city, check out our affiliate facilities page.