[From the Vision Critical Blog] How to find the story in your data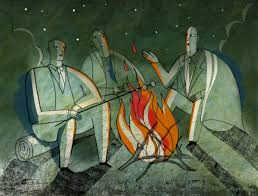 Some solid insights and guidance from Vision Critical's Ray Poynter in this storytelling blog post where he provides useful tips for pulling good stories out of your market research data.
One tip that really struck a chord… "Tip # 6 FACILITATE ACTION." This one resonates with feedback we hear from our research consulting clients in regards to the types of recurring challenges they face in trying to present results in a manner that engages and facilitates change with their stakeholders and end clients. Here's what Ray had to say about it:
"People writing a novel or a play only need to produce an engaging and interesting story. That's not true for market research professionals. You have a specific mission, which is to create stories and communicate information that will allow an organization to make better decisions. The stories we create from the data need to be useful. Our stories are based on evidence—and they should focus on business problems that need answers."
We agree. The story needs to align with the objective of the study, which, if properly focused, addresses a specific business problem. But, the story itself also needs to be told in a manner that's memorable and impactful. And, just as a good writer relies on his/her tool kit of literary techniques and narrative devices, a researcher also needs to be able to count on tools that help facilitate storytelling. That being the case, here's another tip we'd add to Ray's list:
Tip #8 UTILIZE METHODS AND TOOLS THAT HELP FACILITATE STORYTELLING TO ALL STAKEHOLDERS. In today's day and age of market research, these tools are readily available. Our online dial testing solutions, for example, make it easy to export both video and snapshots of the data as overlay lines on top of the test material. Clients tell us that this highly visual deliverable is engaging, memorable and easy to process for those both with and without a research pedigree.
Let us know what you think Ray's list and if you have examples of tools that have helped you tell stories from your data.
*Feature image courtesy of the Kellogg Insight blog.