Portland techies give Yahoo CEO Marissa Mayer a piece of their mind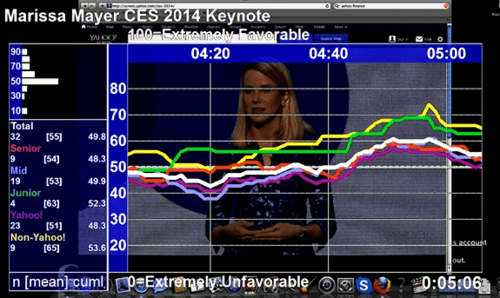 In 2013, mobile technology leader Qualcomm kicked off the Consumer Electronics Show (CES) with a keynote address for the ages; many critics might say, "The dark ages," as reviews ranged from "insane" to "awkward" to "speechless." While Qualcomm's keynote generated more than its share of bad publicity, it also left its mark, generating enormous buzz, and easily becoming the talk of the show. It left the technology world wondering what CES had in store for an encore in 2014.
When CES announced that its 2014 keynote lineup would feature Yahoo President and CEO Marissa Mayer, well we couldn't pass up the opportunity to put our dials to work. We thought it would be an interesting experiment to see how a community of technology professionals—outside of Silicon Valley—felt about what Ms. Mayer and Yahoo had to say. So, we conducted a dial group in Portland, Oregon (nicknamed "Silicon Forest" for its own reputation as a technology hotbed) to get a read on how this year's keynote measured up.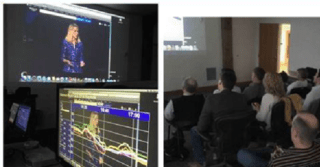 Group members watched a live feed of the keynote. Perception Analyzer dials were used to collect the group members' continuous feedback as they watched as well as to gather attitudinal feedback from the group both prior to and after the keynote.
Here are a few highlights from the results of the dial group:
Overall, the dial group responded much more favorably to the product demonstrations during the Yahoo keynote than to what Ms. Mayer had to say.
Yahoo Tech (in spite of David Pogue's performance) and Yahoo News Digest received the highest peak ratings from the group. While Flickr, Tumblr. and the new advertising features all fell flat.
Security and privacy was top-of-mind with the Portland group as Ms. Mayer hit her highest marks of the afternoon when she announced the new security measures Yahoo has rolled out for Yahoo Mail and across its publishing assets.
David Pogue's animated style did not resonate well with the dial group as he received the most unfavorable scores of any of the keynote presenters.
To see all the results and some snappy screenshots of our dial lines download the full report here:
Download DIALSMITH CES KEYNOTE REPORT
While you're at it, check out the Portland Business Journal's take on the event.