The Super Bowl of Advertising starts NOW — #RateTheAds
$5 Millon for 30 seconds of Super Bowl Airtime
Advertisers are paying a record $5 million for a :30 spot this year, so you better believe they are coming to play. This is our 5th year of offering up pre-released ads for you to rate and weigh-in on. And new this year: continuous ratings via mobile devices.
Rate the ads here–> http://slidermetrix.com/super-bowl-ads-2018/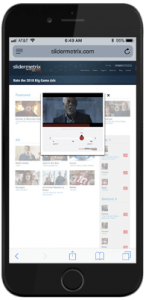 Using our Slidermetrix technology on the backend, we have partnered with Nexstar Media and their 100+ affiliate stations to bring you our Super Bowl ad ratings. New ads are being added as they are released and with your participation, will be able to pinpoint the best and worst seconds out of that $5 Million spend. (video from Nexstar: http://www.koin.com/sports/the-big-game/oregon-company-dialsmith-helps-rate-super-bowl-ads/943671526)
And for the first time, we are seeing teasers and actual trailers for ads. That's right, they are treating an ad like a movie. When it costs $10 million to make and $5 million to broadcast, its not as 'out there' as it seems! https://youtu.be/O6K0ZPRqzFU
Noteworthy:
There will be no Budweiser Clydesdales for the first time in 17 years!
Some familiar names are back: Mars (M&Ms), WeatherTech, Avocados from Mexico, Toyota, Lexus, Verizon, Hyundai, Coke, Doritos and Pepsi
Newcomers include: Pringles, Monster Products, Kraft Products
Extra-creative offerings:
We're seeing interesting new approaches this year to help advertisers break through the clutter and create their own buzz. 
So, this Super Bowl Sunday we're rooting for Budweiser, M&Ms, Skittle, Mercedes and all of the advertisers doing good/having some fun with their ad dollars.
Thank you for bringing a smile and making us laugh.
GO ADVERTISERS!