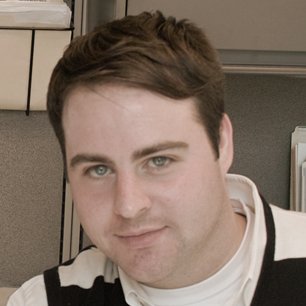 Clinton Godeke | Manager, Logistics & Support
Follow Clinton: LinkedIn
Clinton is very much a "Jack of all trades." His wide-ranging responsibilities include coordinating client projects, overseeing our facility partner network, and driving customer and technical support for clients around the globe.
In His Own Words…
What is the most interesting or memorable project you've been a part of?
The Perception Analyzer was integrated into an episode of the Fox drama Justice. I worked on the set of the show, running the system for the scenes where we were featured. It was an eight-hour process to shoot three minutes of dialog. I walked away with a new found appreciation for the television production process.
What is one thing people don't generally know about you?
I have DJ/music production skills, but I'm extremely rusty.
Where in the world do you most want to visit?
UK or Dubai, UAE.
What's the strangest thing on your desk?
A hand painted Romanian egg.
What's the best hotel amenity you've ever received?
Recently, I was upgraded to a massive suite with panoramic views of Los Angeles. The room upgrade included a 30 minute spa treatment, but I was unfortunately too busy to partake.
What is your favorite / least favorite:
Word: Instrumental / Impossible
Smell: Cinnamon / Industrial smells
Sound: Waterfalls / Car crash
What's your idea of a perfect weekend morning?
Completing the Portland Esplanade three times and catching up on DVR shows.
What food could you not live without?
Red meat.
Perfect sandwich?
Albacore tuna, with spinach leaves and extra tomato on rye.
What's your favorite drink?
PG Tips Tea & Coca-Cola.
In your next life you'd like to be?
Adopted by Brad and Angelina.