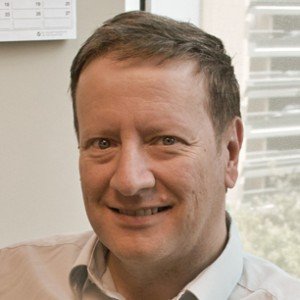 John Stewart | Senior Software Developer
John has the dubious honor of having led the team that has developed of the Perception Analyzer software from day-one. His in-depth knowledge of market research and data collection has helped make our tools world-class and part of countless research projects. When not coding away for us, John is an avid reader and baseball fan.
In His Own Words…
What is the most interesting or memorable project you've been a part of?
Evaluating TV pilots with our dials. It's fun to see all the shows early, even though I'm never allowed to talk about them!
What is one thing people don't generally know about you?
I drive a motorcycle.
Where in the world do you most want to visit?
The Pyramids in Egypt.
What's the strangest thing on your desk?
Hawaiian Tiki statue.
What's the best hotel amenity you've ever received?
Well, a concierge once bought my party plate of mushrooms after recommending a restaurant (random, right?!).  Problem is, none of us liked mushrooms. But it worked out because the restaurant was one of the best I have been to.
What is your favorite / least favorite:
Word:  Eclectic / I'd tell you, but you'd have to bleep me
Smell:  Flowers / Body odor
Sound: Music / I'll tell you when I hear it…
What's your idea of a perfect weekend morning?
Sleeping in.
What food could you not live without?
None, but I do love a good hamburger.
What's your favorite drink?
Coke (I don't drink alcohol).
In your next life you'd like to be?
Me again, with the opportunity to do even more than this time around.