Brian Izenson | Manager, Marketing & Business Development
Follow Brian: Twitter | LinkedIn | DIAL.LOG Blog
Brian directs Dialsmith's marketing and business development efforts, spreading the gospel about our products and services while developing partnerships and alliances that help Dialsmith and our enthusiastic customers tell their stories. Brian's marketing communications chops have been fine-tuned over 15+ years in the business, and have enabled high tech and business consulting companies to solidify their brands; connect with and develop closer relationships with their customers; define and clearly differentiate their offerings; and lay claim to leadership positions in their market.
In His Own Words… 

What is the most interesting or memorable project you've been a part of?
We recently worked with a partner to put on a real time research event—in the form of an online focus group—in front of a live audience of market research professionals at an industry conference. No safety net or second chances with an event like that as you never know exactly if everything's going to come together and go as planned, and a lot of moving parts from the technical set up to the presenters to the audience. We wanted to make it fun and timely (conference was late March) so we chose to test a couple of hot summer movie trailers and brought in a popcorn machine for the audience. All went well except we had a bit of trouble keeping up with all the popcorn requests. Who knew that researchers love popcorn so much?
What is one thing people don't generally know about you?
I've stayed awake for 48 hours straight on three separate occasions.
Where in the world do you most want to visit?
The South Pole. No, really.
What's the strangest thing on your desk?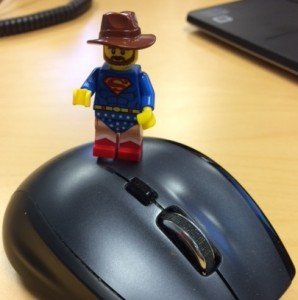 The Lego® Minifig that my son made me. He's wearing a cowboy hat with a Superman body and Wonder Woman legs. Very Portland.
What's the best hotel amenity you've ever received?
The most comfortable robe EVER! Wait, define "received?"
What is your favorite / least favorite?
Word: Onomonopia / Bieberism
Smell: barbeque / feet
Sound: fat tires on soft single track / traffic
What's your idea of a perfect weekend morning?
Long family walk with our dog followed by a big breakfast.
What food could you not live without?
Cereal
Perfect sandwich?
Gyro with Falafel with Tzatziki Sauce
What's your favorite drink?
A nice chocolaty porter
In your next life you'd like to be?
Either Adam Savage or Jamie Hyneman — the guys from MythBusters. Heck, they get paid to blow stuff up.