Super Bowl Ads are Back and So Is Slidermetrix!

Dialsmith and VideoInk partner to offer second-by-second "scoring" of Super Bowl ads
For 30 seconds of air during this year's Super Bowl, advertisers are paying as much as $4.5 million. That's a whopping $150K per second and a huge investment to make an impression on viewers as they enjoy the Big Game. It goes to show that in the world of big boy and big girl advertising, every second counts.
With six-figure seconds the norm now for Super Bowl ad buys, our research geeky brains here at Dialsmith want to know more than simply which of the Big Game ads viewers like the most. We want to know which of those "Super Seconds" are capitalizing on the investment and which are not. The only way of getting at this granular level of viewer feedback is to use a tool like Slidermetrix.
So, for the third year in a row, Dialsmith is working with a major media partner (the online video industry news and commentary website VideoInk) to give viewers the chance to score the Super Bowl ads on a continuous, second-by-second basis using Slidermetrix.
Using Slidermetrix, a viewer is asked to continuously rate what they are watching second-by-second. So, in the case of a Super Bowl ad, we get a real-time, second-by-second snapshot of each viewer's opinion, providing a deeper level of data than what you get from other types of ratings (like the star or thumbs up/down ratings you typically see online).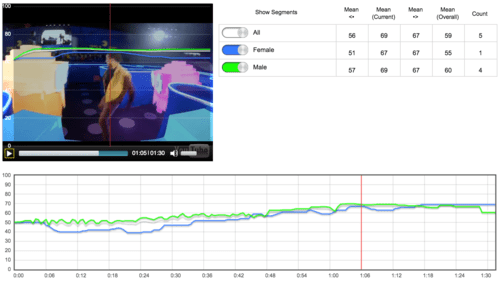 A peek behind Slidermetrix shows the ability to capture and report on the second-by-second feedback from viewers.
This method is similar to the Moment-to-Moment dial testing that market research consultants do for their media clients who use their data for placement and programming decisions as well as for content direction, including decisions by advertisers on the content for ads that air during the Super Bowl.
Be sure to check back on our blog and on the VideoInk site for news, updates and results of our 2015 Super Bowl ad ratings. For more background, check out these links:
Watch Dialsmith CEO David Paull preview this year's Super Bowl Ads (KGW.com)
Dialsmtih CEO David Paull discusses Super Bowl Ad rating on Research Business Daily Report with Bob Lederer, Tim Calkins of the Kellogg School, and Robert Passikoff of Brand Keys
Score the 2015 Super Bowl ads powered by Dialsmith and VideoInk
Watch and Rate This Year's Super Bowl Ads with Us (VideoInk)
Highlights of last year's Super Bowl ad testing results
Watch Dialsmith CEO David Paull discuss the 2014 results (KGW.com)