Dialing In on Alton Brown's "Little Friend"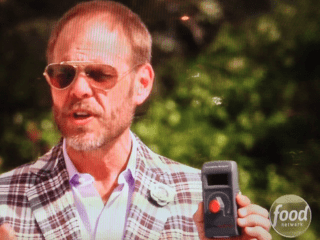 (Photo courtesy of Food Network)
Sunday's episode of Food Network Star (Season 10, Episode 7) featured the reality show/food competition's version of a Vegas Pool Party. But the challenge for the Star competitors wasn't finding someone to lotion up their backs. Instead, each Star competitor had to pitch their poolside dish to a live audience equipped with Dialsmith's Perception Analyzer dials–lovingly referred to by the Star competitors as the "Dials of Doom." The live audience served as a focus group using the dials to give continuous, real time feedback to gauge whether a competitor's pitch swam or sank.
This is the second season that Food Network Star has featured the Dials of Doom, Season 9 being the first, and to those familiar with the show, it's obvious the dials are a favorite of Star judge/mentor Alton Brown. Why are the dials this chef's choice? Alton had this to say:
[The dials] are good because it means that a bunch of people that don't know the finalist get to immediately react and respond like a tv audience would respond. The dials give us a piece of info that we don't ordinarily get which is just that immediate, raw, visceral response to somebody's presence."
Check out this clip for a quick look back at Sunday's episode and to hear Alton's take on the Dials of Doom.
If you're really hungry for a full course of the Dials of Doom, grab your bathing suit, a towel and check out the full episode below.